Lt. Gov. Kathy Hochul will become governor of New York after Andrew Cuomo announced on Tuesday that he will resign in two weeks following the state attorney general's investigation that found he sexually harassed multiple women.
Hochul will become the state's first female governor and stands to inherit a political landscape that Cuomo dominated for more than a decade. She will also assume office at a time when New York is fighting a resurgent coronavirus pandemic and the fallout over Cuomo's departure.
"I agree with Governor Cuomo's decision to step down. It is the right thing to do and in the best interest of New Yorkers," Hochul tweeted Tuesday afternoon shortly after Cuomo's announcement. "As someone who has served at all levels of government and is next in the line of succession, I am prepared to lead as New York State's 57th Governor."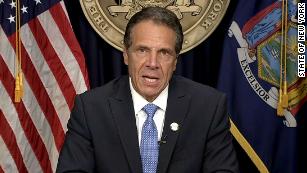 Hochul, 62, has served as Cuomo's lieutenant for nearly the last seven years. In the wake of the state attorney general's report last week, she
denounced
Cuomo's alleged behavior as "repulsive & unlawful," adding, "I believe these brave women & admire their courage coming forward."