Police hunt for 'lesson teacher' who abducted 5 kids in Rivers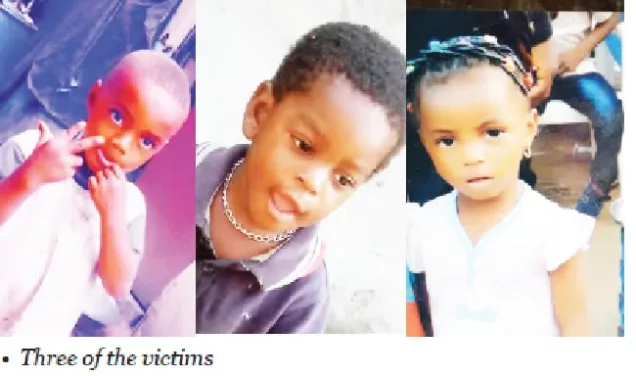 Police in Rivers State are hunting for a mysterious lesson teacher who abducted five children belonging to different parents in Rukpakulusi, Eliozu axis, a community in suburb of Port Harcourt about 12 days ago.
It was learnt that a woman reportedly disguised as a lesson teacher abducted five of the children from two different families in the community.
It was gathered that the woman is presently at large and the Police have begun a search action to find her and rescue the children aged between 18 months and four years.
Narrating how the children went missing, the mother of three of the victims, Rose Monday, said that her children were last seen after the mystery woman took them to buy notebooks for a purported home lesson.
She added that their abductor had disguised as a teacher, seeking to rent a makeshift structure in the area.
"I was at home when one of my children, who was playing with her siblings, came back alone. I asked her the whereabouts of her brothers and she said one aunty (woman) said she would bring them home.
"I asked where the woman took them to, but she replied that the woman took them to the Oil Mill market to start taking them lessons and that she and the other children followed her."
Mrs Rose Monday's 14 years old daughter, who was initially abducted by the mystery woman, said the suspect released her and their neighbour's son at the Oil Mill Market in Rumukrushi, but went away with five other children.
The 14 years old girl said as they were following the mystery woman she suggested that there was (child) who did not know how to write. The woman said no, that she was only interested in little Children because she "liked" children.
"As I followed her, she started watching me. When I returned the look. She later stopped a vehicle and all of us entered. When we got to Oil Mill, the woman kept me there and sat down.
The woman now told me that she wanted to take the children to go and pick up something. So, I sat there for a long time. I then asked a girl operating Point of Sale(POS) if she knew where the woman took the children to, and the girl replied that she didn't know the woman. That when I realized that the children had been kidnapped," she added.
The acting Spokesperson for the state police command, DSP Grace Iringe-Koko, who confirmed the incident said the Police were on the matter.