Nigeria has debt challenge: AfDB boss Adesina disagrees with FG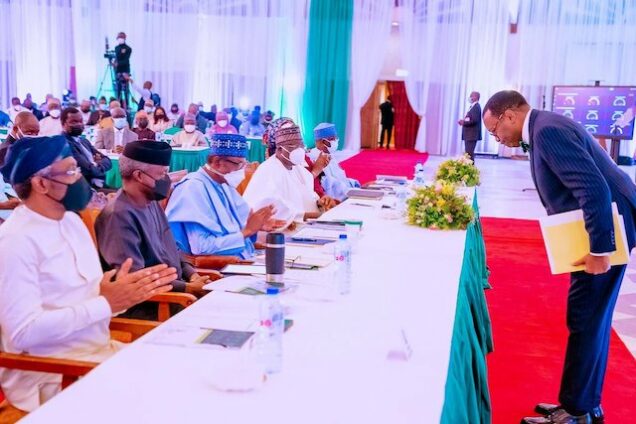 President of the African Development Bank Group (AfDB), Dr. Akinwumi Adesina said Nigeria has a debt challenge, with debt service gulping 73 percent of government revenue.
His position is diametrically different from that of President Buhari and Nigeria's finance minister Zainab Ahmed who interpret the challenge before the nation as revenue generation, amid ballooning national debt.
Adesina spoke on Monday at a midterm retreat for ministers. President Buhari and Vice President Yemi Osinbajo were among the audience.
In his budget presentation to the National Assembly, Buhari in trying to assuage concerns over rising debt said;
'Some have expressed concern over our resort to borrowing to finance our fiscal gaps. They are right to be concerned. However, we believe that the debt level of the Federal Government is still within sustainable limits. Borrowings are to specific strategic projects and can be verified publicly.
Then he added: "Our target over the medium term is to grow our Revenue-to-GDP ratio from about 8 percent currently to 15 percent by 2025. At that level of revenues, the Debt-Service-to-Revenue ratio will cease to be worrying. Put simply, we do not have a debt sustainability problem, but a revenue challenge which we are determined to tackle to ensure our debts remain sustainable".
But arguing from a different perspective, Adesina said Nigeria's debt service to revenue ratio is high at 73%. and urged the government to decisively tackle the challenge.
"Nigeria must decisively tackle its debt challenges. The issue is not about debt-to-GDP ratio, as Nigeria's debt-to-GDP ratio at 35% is still moderate. The big issue is how to service the debt and what that means for resources for domestic investments needed to spur faster economic growth.
"The debt service to revenue ratio of Nigeria is high at 73%. Things will improve as oil prices recover, but the situation has revealed the vulnerability of Nigeria's economy. To have economic resurgence, we need to fix the structure of the economy and address some fundamentals.
"Nigeria's challenge is revenue concentration, as the oil sector accounts for 75.4 % of export revenue and 50 % of all government revenue."
Get link

Facebook

Twitter

Pinterest

Email

Other Apps
Get link

Facebook

Twitter

Pinterest

Email

Other Apps