2023: God can produce Nigeria's President from Living Faith - Oyedepo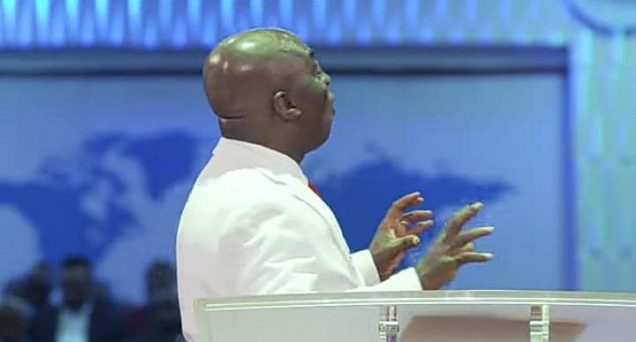 Bishop David Oyedepo of Living Faith Church Worldwide has said God can produce the president of Nigeria from his church.
Oyedepo, who spoke at the Special Prophetic Service at Faith Tabernacle, Ogun State on Sunday, warned church members to make sure they have divine leading from God before venturing into politics.
"Don't get me wrong, God can pick a President from this Church. That person could even be a female, but you will see the clear hand of God upon such individual," he said.
The Living Faith Church founder said there are many who did not have any business going into politics, saying "they don't have business, they just wandered there. They get beaten and battered; they return wounded. They have no business.
"God led me": No, your appetite led you. It is important for me to mention to members of the Church because another time is here now. You better ask counsel of the Priest before you torment your life by yourself.
"There are those who come to me and I say, "No. You are missing your road." They still went ahead and when the… finishes, they now come back.
"What office would you win election to now, that I will now need you? No. My eternal Helper is up there and they know if I ever asked a thing from anyone. My access is surer than their temporal stuff.
"Allow God to lead you. Don't let greed and avarice lead you. Somebody has never helped anybody in his life, what is he going to do in politics?
"Never helped nobody, never sent anyone to school, never gave bread to anyone that is hungry: He is going to look for the welfare of people. How many people have you sought their welfare in your life? All these are facts. They are facts that they won't look at," he stated.
According to Oyedepo, "You will never know my weakness until I swerve off His plan and I am jealously guarding it.
Your dignity, your security, your destiny, your prosperity, your posterity is in standing where God has put you and enjoying it.
"Believers should be there. Yes. Are you the believer? Let God find His Daniel and send them there. You can't move the Daniels. You can't get them to line up with your evil. They will stand tall for God and He will protect them.
"You don't need anybody to examine you, just examine yourself. Don't lie against God. Allow Him to lead you.
The good news is that His plan guarantees a future: a glorious future, an enviable future, the kind that no effort or skill can access.