Nigeria's Tofade makes history, becomes first black female president of US College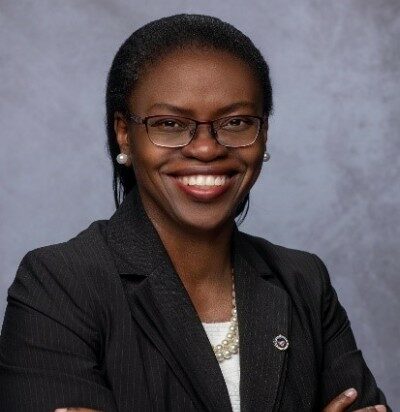 Nigeria's Toyin Tofade has been appointed the first black female president of the Albany College of Pharmacy and Health Sciences (ACPHS), United States.
A statement from the college said Tofade has been selected as the 10th president of the college, following a comprehensive national search.
Since 2016, Tofade has served as the Dean and Professor at the Howard University College of Pharmacy in Washington, D.C.
"Dr. Tofade is the first Black woman to serve as president of Albany College of Pharmacy and Health Sciences in the college's 141-year history. She begins her term on July 1, 2022," the college said.
"It is an honor to be selected for this distinguished role by the Board of Trustees at Albany College of Pharmacy and Health Sciences," said Tofade.
"My sincere thanks go to Howard University's provost and president for their leadership, ongoing support, and mentorship over the years, the entire Howard University College of Pharmacy (faculty, staff, students, board of visitors, alumni, and friends) for their dedication to excellence and leadership, my distinguished colleagues for making Howard a great place to work, and my family for their unwavering support. I am grateful to God for this new opportunity, and I look forward to serving the ACPHS community as president," she added.
During her tenure at Howard University, the college has nearly doubled enrollment for the class of 2021; doubled the number of student internships; expanded clinical, industrial and international partnerships; and received the maximum number of Accreditation Council for Pharmacy Education (ACPE) re-accreditation years possible.
Under her leadership, the college diversified its faculty composition and expertise; revised the curriculum which has led to improved educational outcomes; entered into a one-of-a-kind partnership with the FDA and Glaxo to provide fellowship opportunities in regulatory affairs and policy, and established residencies with Walgreens and Trusted Health Plan.
Multiple partnerships with the pharmaceutical industry yielding postdoctoral fellowship opportunities for Howard graduates have been created under her leadership. Additionally, alumni giving increased by over 70% and the student residency match rate increased from 36% to more than 50%.
"Dean Tofade has been an integral part of the Howard University community for the past six years and has represented the College of Pharmacy well as a respected leader. While her departure is certainly a loss to Howard University, we are nonetheless thrilled for her that she will expand her leadership responsibilities as the president of Albany College of Pharmacy and Health Sciences. We wish her well in this exciting new role," said Dr. Anthony K. Wutoh, Provost and Chief Academic Officer of Howard University.